Book a BedZED tour
Bioregional offers a regular guided tour of BedZED on the last Thursday of each month at 11am
If you have any questions, please do get in touch
Please note - we are not running BedZED tours for the foreseeable future due to Covid-19.
Thank you for understanding.
The 45-minute monthly tour includes a walk around the entire BedZED site and covers all aspects of the eco-village, with plenty of time to ask questions. Please book online below.

Please note that to minimise disruption for BedZED residents we are not able to offer tours to groups larger than 25 people.
Monthly tours
£18 for full price tickets, or £12 for concessions (students, pensioners and those who are on benefits).

For groups of 10 adults or more it may be possible to organise bespoke tours on any weekday between 9.30 am and 4 pm. These include a visit inside a BedZED home and a chance to sit down afterwards over tea or coffee for further discussion with (or a presentation from) Bioregional.
Timing: Up to 1.5 hours Pricing: £24 per person (£18 concessions)
Student tours: Tours of 15 or more students can also be arranged at £12 per student and last 45 minutes. Students must bring Student ID with them. Please email info@bioregional.com for any bespoke tour enquiries.

Wheelchair accessibility: The site is wheelchair accessible (excluding the viewing of the studio flat on the bespoke tour).

Cancellation: In order for us to cover costs of running tours, please note that monthly tours may be cancelled if there are too few bookings for a particular day. We will issue a full refund if this happens.

Getting there: BedZED has good bus, rail and tram links and limited car parking space. Find out more.
Refunds/Cancellations
Please note if you wish to cancel your tour, refunds will only be made up to two days before the tour date. After this point we are not able to provide a refund.
Disclaimer: when buying these tickets, as in all human endeavours, there is a level of risk. We do our best to keep the risk to a minimum. Bioregional, subsidiary companies, partners and employees assume no liability or responsibility for any injury, loss, damage or inconvenience sustained by any person using its services, nor to their property.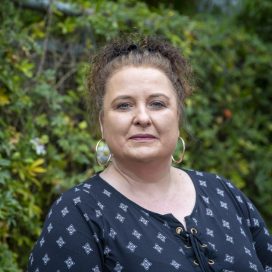 Get in touch
Contact us to find out more about BedZED monthly tours or to book a bespoke tour
Karen Bruce
Office Administrator
Fill in the form to send your enquiry direct to Karen