East Village on Knutsford – creating a better model of housing for Australia
An ambitious new development in Western Australia is combining an innovative shared solar micro-grid with focus on fostering community to enable residents to enjoy truly sustainable lives
If you have any questions, please do get in touch
East Village is a pioneering sustainable development by DevelopmentWA (formally LandCorp) of 36 townhouses and approximately 70 apartments. It's located in the City of Fremantle, a port city near Perth. Fremantle's council has been using the One Planet Living® framework since 2014.
Building on DevelopmentWA's experience of using One Planet Living at WGV at White Gum Valley, and drawing on Fremantle's vibrant and sustainable culture, it will be an innovative place to encourage zero-carbon living in a connected community.
East Village was recognised by Bioregional as Global Leader in One Planet Living in December 2019. Its ambitious sustainability action plan details its actions for each of the ten One Planet Living principles.
Low impact is the norm
From the day the first residents move in, the East Village townhouses will be zero carbon, with a solar micro-grid and shared battery back-up – one of the biggest of its kind in the state. It uses a community energy model where residents share the energy produced on their rooftops via the battery.
All the homes will be orientated to make the most of the Australian sun and energy bills should be reduced by at least 50% compared to a standard home of this type. Any extra energy needed will be 100% renewably generated electricity sourced from a clean energy supplier.
Residents will also enjoy much smaller water bills, harvesting rainwater to use for watering plants, flushing toilets, washing machines and, in a first for Western Australia, the home hot water system.
Australian planning rules make reducing car parking challenging. In contrast to most new developments, which provide two car parking spaces per home, each home at East Village will have a 'car port', designed to be used for a range of purposes. Residents will be actively encouraged to do this. Electric vehicle charging points will also be provided in each space.
A One Planet Living village
As a medium-density site of 200 residents on 1.5 hectares, East Village will create a village feel with shared space featuring structures that provide shade, picnic tables, barbeques, bike parking and water fountains.
A community hub and food-growing space will also provide opportunities for residents to get to know each other – something which has proven popular at WGV. The East Village green spaces are also designed to include habitat species for local fauna, as well as restoring tree canopy that has been missing from the area for generations.

The village is also located within walking and cycling distance of local parks, art galleries, cafes and the city centre, making it an ideal location for living car-free.
Helping change the way housing is done
DevelopmentWA is impressively committed to evaluating the impact of its sustainability initiatives and sharing the learning widely. WGV was the subject of several research projects with local partners.
Continuing this commitment, DevelopmentWA will collaborate with Curtin University to install a 'Living Laboratory' onsite at East Village. This sustainably prefabricated building will provide desk space for up to 17 researchers to study its zero-carbon achievements and resident engagement on sustainability. These lessons will be shared with the wider industry, both locally and globally.
Research projects are already underway with support from the City of Fremantle, CRC for Low Carbon Living with Curtin University's Sustainability Policy Unit, and the CRC for Water Sensitive Cities with Murdoch University.
"We commend East Village for its exceptional work to create a One Planet Living community. We're particularly excited about its innovative solar micro-grid and community energy model, which demonstrates that zero-carbon developments are achievable. This is the kind of leadership we need." Ben Gill, One Planet Living manager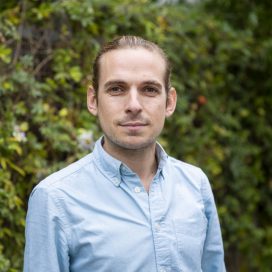 Get in touch
Get in touch if you'd like to know more about how we can help you use One Planet Living in your new-build development
Joe Pitts-Cunningham
One Planet Living Lead
Fill in the form to send your enquiry direct to Joe