How we helped Sue Ryder create its first ever sustainability strategy
We developed a targeted sustainability strategy for Sue Ryder to reduce its environmental impact, informed by a detailed gap analysis and full carbon footprint
If you have any questions, please do get in touch
The challenge: developing a coordinated strategy tying together multiple services
Sue Ryder
is a charity which supports people with expert, compassionate care through terminal illnesses, neurological conditions and bereavement. It asked us to create a comprehensive sustainability strategy to inform its future plans and help create a positive impact. To become a truly sustainable organisation, Sue Ryder needed a holistic strategy to cover all aspects of its operations – including healthcare, retail, fundraising, and support services.
How we helped: conducting a detailed assessment of environmental impacts, informing a future-looking strategy
We began the project by researching and analysing Sue Ryder's current practices around sustainability. This included a review of internal documents, five stakeholder interviews and a detailed survey framed around our One Planet Living® principles. We also reviewed the sustainability actions of 12 different peers and competitors in the charity retail and healthcare sectors, building a picture of industry best practice. This process highlighted some of the key future challenges for Sue Ryder, such as a growing demand for care and a shifting retail landscape.

We then developed a thorough gap analysis report, based around One Planet Living. The gap analysis identified areas for sustainability improvements across the organisation, including sustainable procurement guidelines, making energy efficiency improvements, and switching to low-carbon vehicles.
Crunching the numbers
To further understand where Sue Ryder's environmental impacts lay, we conducted a full carbon footprint analysis and a baseline footprint across scopes 1, 2 and 3.
This was in partnership with Carbon Architecture, which provided the scope 1 and 2 calculations and produced a net-zero roadmap for Sue Ryder's buildings. This was particularly valuable given that many of the organisation's healthcare sites are older, listed buildings which are challenging to retrofit.

Bioregional's footprint analysis showed that most of Sue Ryder's carbon impacts fell into scope 3, with the bulk of this from purchased goods, services and capital goods. By identifying these hotspots, we could create a targeted strategy which tackled the most material impacts for the organisation.

A strategy that makes sense

With these first stages complete, we created Sue Ryder's sustainability strategy, framed around three overarching pillars: operations, supply chain and products, and people. The strategy set headline commitments and timebound targets around the priority areas identified in the gap analysis. This included a commitment for Sue Ryder to be net zero across scopes 1 and 2 by 2035.

We facilitated stakeholder workshops to refine the strategy, ensuring it made sense to key employees and could be realistically implemented. Sue Ryder also invited us to present the strategy to its Trustees, which was a vital step for the charity to agree its future sustainability approach.

At the end of the project, Bioregional presented the strategy at Sue Ryder's leadership conference. This helped to raise awareness of the strategy across the organisation and build stakeholder buy-in.

Bioregional's work on our carbon footprint and sustainability strategy has been critical in building understanding of our key impacts and engaging staff in the process. This support has enabled us to set to a net-zero target and begin the next stage of our sustainability journey as an organisation, supporting our aim to provide more care, for more people.

Sue Ryder
The impact: building the foundations for future change
The project gave Sue Ryder a comprehensive assessment of its sustainability baseline position, and a clear plan for how to move forward. We set the organisation's first net-zero target, backed-up by a pathway for reaching net zero across scopes 1 and 2. Sue Ryder has committing to achieving net-zero emissions by 2035 for its scope 1 and 2 emissions, and scope 3 by 2050. The strategy and net-zero target were agreed by the Board of Trustees, signalling that sustainability is championed at the highest corporate level.
By engaging with internal stakeholders through the strategy development, the project was an important catalyst for greater prioritisation of sustainability across the charity. We are also delighted that the charity has decided to recruit a full-time Sustainability Lead to work on implementing the strategy.

Interested in our sustainability strategy services?  
Get in touch via the form below, or click here to learn more about how we can help your organisation. 
Photo credit: Prudence Earl via Unsplash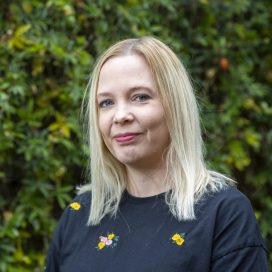 Get in touch
Contact us to find out how we can help you make your sustainability strategy the best it can be
Sian Cooke
Head of Sustainable Business
Fill in the form to send your enquiry direct to Sian