How we helped The Carey Group create a staff-led sustainability strategy
We helped The Carey Group take its sustainability commitment to the next level with a sustainability strategy rooted in staff insights
If you have any questions, please do get in touch
The challenge: starting a sustainability strategy from scratch
The Carey Group, a family-owned construction business with a ~£500 million turnover, knew that having a sustainability strategy was high on the list of priorities for both staff and the business itself.
This strategy would provide a succinct framework to:
enable the business to operate more sustainably
coordinate and report on actions and projects that staff were already undertaking
help communicate sustainability in a relevant and tangible way to all employees.
However, Careys was unsure how to create a strategy that catalysed change across the organisation while also bringing their staff on the journey.
Bioregional has built a strategy for The Carey Group that is both tangible and fitting with all aspects of the business. It can be fully embedded in what we do every day, ensuring that sustainable business is just the way we do business!

Clare Killeen, Head of Sustainability at The Carey Group
How we helped: from a gap analysis to structuring a strategy
A gap analysis rooted in staff insights
With Careys staff already interested in sustainability, our sustainability gap analysis focused on gathering information from them: what do they think about what's already happening – and what could improve? Where would they like to see the business in five years' time?
We arranged an organisation-wide staff survey, as well as conducting interviews in person with a range of Careys staff, from board members to site workers. More than 200 people responded to the survey – demonstrating a strong demand for a sustainability strategy.

A successful strategy has got to be in the heads of the people in hard hats.

Carey Group Operations Board member
We also sent out more detailed questionnaires to key stakeholders within each of the Carey Group's business units, structured by our ten One Planet Living principles. This helped us to gain a deeper perspective on their current practices and data, and where Careys can have the biggest sustainability impact.
Alongside this, we conducted research into what policies and procedures were already in place and compared this with the results from an analysis of seven other companies within the construction sector.
A series of site visits helped us understand the reality of people's day-to-day jobs on active construction projects – we wanted to know what sustainability would look like for them.
An interactive approach to developing a strategy
We used this gap analysis to create:
Five themes for the Group's sustainability strategy that reflects its business aims, what its staff would like to see, as well as best practice in terms of sustainability ambitions
Five 'enablers' that detail how the Group will achieve these goals.
The strategy was presented to key stakeholders, including the CEO of Careys Civil Engineering and COO of Careys Civil Engineering UK South, in a day-long interactive workshop at Lee Valley VeloPark. During the workshop, stakeholders discussed and tested the themes and enablers to make sure they were applicable to their business. All of which were agreed on the day with minimal changes.
The outcome: a clear plan for action and highly engaged staff
The simplicity of the five themes makes the strategy accessible to people across the organisation. Yet, as we used the One Planet Living principles to underpin these, it is also a highly holistic approach covering social, economic and environmental sustainability.
The five enablers make the strategy tangible and help inform which actions the business needs to take. After creating the strategy, we worked closely with each of the Group's different business units to create an action plan on how they can deliver on each relevant theme.
The feedback from staff has been positive, with many referencing the strategy's simplicity, practicality and how their work contributes towards it. The Carey Group is now looking at creating a video outlining their sustainability strategy to further engage with additional stakeholders across the organisation.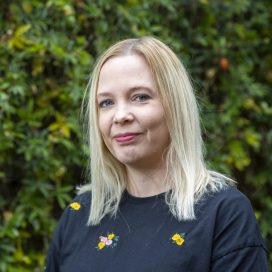 Get in touch
Contact us to find out how we could help you with your sustainability strategy
Sian Cooke
Head of Sustainable Business
Fill in the form to send your enquiry direct to Sian