Change one thing - change the future
What one thing would you change in the built environment industry to change the world? Futurebuild asked our CEO Sue Riddlestone this question – here's her answer
If you have any questions, please do get in touch
We are in a climate and ecological emergency

Our planet is heating up, nature is dying, and our civilisation is at risk. We face a climate and ecological emergency and it is our way of life that's causing it.
And yet no-one wakes up in the morning thinking "I must go out and destroy the planet and threaten my children's future today". It's that our society is set up for us to do that.
This is never more apparent than when we look at our homes and communities.
Our homes and buildings have a hefty carbon footprint during construction, are run on fossil fuels and aren't designed properly to retain heat. Our transport infrastructure is set up for single-occupancy, heavily polluting cars. Many communities are not within walking or cycling distance of local amenities.
The built environment can ensure sustainable lifestyles
So, the one change that I would want our industry to make is to design our built environment to enable people to live truly sustainable lives. The developers building our homes, communities and offices have a huge opportunity to change the future for the better.
Our buildings and the way we use them can influence over half of our carbon emissions:
The upfront carbon emissions from their construction
How they are heated and their energy efficiency
Where they are located, public transport links and the facilities available nearby dictate how we travel daily
Design for a better way to live
When designing, think about a day in the life of the people who will live or work there, and what they will need to achieve One Planet Living.
This doesn't just mean creating warm, comfortable, energy-efficient homes made from low-carbon materials that run on renewable energy – although that's a good start!
It also means thinking about how they'll get to and from work, what shops are nearby, what onsite amenities and transport links you can provide.
Elmsbrook, a One Planet Community in Bicester, Oxfordshire, has provided a school and a eco-business centre on site, helping residents drastically reduce their travel footprint. WGV at White Gum Valley, another One Planet Community in Perth, Western Australia created better cycling and pedestrian infrastructure to encourage sustainable travel.
Developers can also pack in lots of green space and nature – boosting people's wellbeing, allowing wildlife to thrive and providing natural carbon capture. Grow Community in Seattle has managed to include shared gardens, an orchard, a woodland and a village green on a development of just more than 130 homes.
And our research shows that people who live in these communities are happier and healthier, and the uptake of homes is quicker.

What's not to like!
Learn more about Futurebuild's Change one thing, change the future campaign.
Read more about our approach to doing development differently.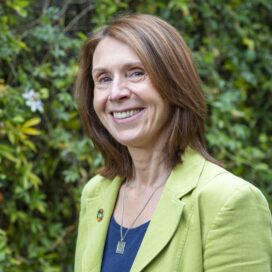 Get in touch
Contact us to find out more about how we can help you design sustainable lifestyles at your new-build development
Sue Riddlestone OBE
Chief Executive and Co-Founder of Bioregional
Fill in the form to send your enquiry direct to Sue