Why circular fit-outs can help retailers respond to emerging sector trends
Sustainable fit-out. Circular fit-out. Fit-out for the future. These are all phrases we have been talking a lot about in terms of retail at Bioregional recently. Sian Cooke explains why
If you have any questions, please do get in touch
Retail fit-outs are on the frontline of change
Internal spaces are under pressure. Pressure from rising rent and energy costs. Pressure from growing public awareness of the negative impacts of our resource-hungry economy, which is creating a lot of avoidable waste.
And then there's pressure from customers to meet their needs. People want the opportunity to experience and purchase goods and services with ease, stay connected, socialise and be comfortable. Retailers now must consider every square metre of fit-out and how it will present their brand, be unique, encourage footfall and meet ever-changing consumer needs.
As the sustainable interior trend grows in popularity – from incorporating natural materials to creating products from reclaimed or recycled materials – circular fit-outs provide an excellent way to meet all these demands.
Reimagining retail fit-out
What is a circular fit out? It is a fit-out scheme that uses refurbished, reclaimed or recycled materials as much as possible. It is zero waste, with an end-of-life plan for all materials used. It also considers leasing and service models where appropriate. The aim is to keep all elements of fit-out in use for as long as possible.
We can already see elements of this at play. Armstrong's cradle to cradle ceilings and the Philips pay per lux models have been around for a while. But we can take it further than that – let's imagine a service model for whole retail fit-outs.
Service providers would carry out and manage the process end-to-end. Fit-out elements would be modular, and entirely customisable to suit a brand's colour, style, font and look. Materials would be sustainable – responsibly sourced, reclaimed where possible and low in chemicals. When they are no longer required within a retail unit, they can be easily stripped out, serviced and customised to be re-fit into another unit, by an entirely different brand.
Not only does this enable materials to be used time and time again, but this centralised model streamlines other processes too. Transportation of materials will be shared geographically, so that one truck could deliver fit-out materials to different retail units within the same area. Once deliveries are made, this truck could also collect any waste from sites for reuse or recycling.
Crucially, this service approach would also help new retail tenants when they first move into a unit; facilitating an audit to see what elements of the existing fit-out can be repurposed or reused in-situ, rather than entirely stripped out as standard.
How would circular fit-outs bring the benefits retailers need?
Retail fit-outs now need to be flexible and responsive to changes in the high street. Experiential, innovative, disruptive technology trends are all gathering pace in the retail sector.
Consumers are increasingly driven by new and different experiences. Alongside products for sale, offering interactive, engaging and fun activities are new ways to entice consumers. This could be anything from evening cookery classes and pop-up fashion events to inclusive events such as autism-friendly lunches or craft mornings for the elderly. So a fit-out needs to be changeable and reactive to these needs; whether it be user-controlled lighting, adjustable partitions, extendable tables or temporary tints for glazing.

Circular principles within fit-out schemes can make for an adaptable, flexible and reactive design. It also puts your business' sustainability purpose and strategy at front of mind for the people who matter: your customers.
And the need to achieve the Sustainable Development Goals by 2030, including Goal 12, Sustainable Consumption and Production, is also critical for any retailer that's serious about corporate social responsibility. The sector must create products and services which help everyone lead a sustainable lifestyle – something research shows people want.
We're already seeing sustainability take centre stage in retail:
H&M's concept store in Hammersmith, London uses fit-out to create a courtyard feel, with living plants and flagstone flooring as well as including a florist, café and a garment repair and remake section.
Nike has used corrugated cardboard for its product displays and shelving in its flagship store in London.
As well natural fit-out materials including stones, moss and repurposed paper waste, Stella McCartney's Old Bond Street concept uses Airlab technology to remove 95% of air pollutants from the air within this London store.
These examples show sustainability can be embedded within a concept and fit-out materials to be its selling point. Circular principles within fit-out schemes can make for an adaptable, flexible and reactive design. It also puts your business' sustainability purpose and strategy at front of mind for the people who matter: your customers.
This is only the beginning
Taking an entirely new approach to fit-out does not come without its risks or challenges. But I believe that there is now appetite to try something new, and in the next few years we will be seeing more pilot projects trying out new models for fit-out.
It will be a learning curve and there will of course be twists and turns in the journey, but if we are to create retail units that mirror the sustainability ambitions of the sector as a whole, we will need some first movers. So, who is going to lead the way?
Learn more about Bioregional's sustainable fit-out services and how we can help you achieve a circular fit-out.
The circular economy: cracking the challenge
The circular economy is one of the biggest challenges - yet most exciting opportunities - for today's businesses. This guide will help your business get started, and explain the benefits of embracing the circular economy
Download PDF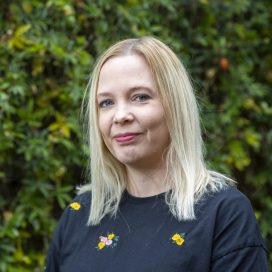 Get in touch
Contact us to find out how we can help you with circular fit-outs
Sian Cooke
Head of Sustainable Business
Fill in the form to send your enquiry direct to Sian