Futurebuild 2020: it's time for emergency action
This year's Futurebuild wants attendees in the built environment to respond to the climate and ecological emergency. Sue Riddlestone shares why you should visit our stand G118 and discover how you can ACT!
If you have any questions, please do get in touch
"Now is the moment" for action on climate change, warned Sir David Attenborough at the COP26 launch earlier this month.
I've seen many missed moments during my 30 years working in sustainability. Moments where it felt like the tide was turning and transformative change was in reach… but things always slipped out of our grasp.
This time feels different.
We've never seen levels of public awareness or appetite for change like it. It's our chance: the last chance we'll have to prevent global temperatures from rising beyond 1.5 degrees C.
While this is the biggest challenge ever faced by humanity, it's also an unparalleled opportunity to show extraordinary leadership. To inspire and lead the charge for a better, more sustainable world. This is especially the case for the built environment, which is responsible for almost 40% of the world's carbon emissions.
And, as my colleague Dave Lomax from Waugh Thistleton Architects recently commented, now that the public is engaged, there is a "market for sustainability." People want the homes they buy, the offices they rent, and the places they shop at to protect the planet. If you aren't doing this, you will be missing out.
"ACT" at our Futurebuild stand
Attenborough's call to action reminds me of a Chinese proverb – "The best time to plant a tree was 20 years ago. The second-best time is now."
That's why we're delighted that Futurebuild is asking people to 'act now.' We don't have time for complacency.
So, what actions will you take? Here's where we can help - visit Bioregional's stand (G118) next to the main conference arena for:
Advice and ideas on how to embed sustainability into your projects.
We have useful resources for the built environment covering the Sustainable Development Goals and our proven One Planet Living sustainability framework.
Creating real change.
Share what emergency action you'll take right now - from sending that email to your boss about upping your company's sustainability commitments, to deciding to go veggie.
Tantalising inspiration
Soak up our One Planet Living photo exhibition, showcasing thriving developments around the world that add value to keep the Finance Director happy, while creating better, more sustainable places to live, work and do business.
Our speaking slots
For more insight on how homes and communities can be designed to enable truly sustainable living, I will be speaking on 5 March at 10.45am in the main arena. Hear key insights into personal and professional behaviour change on a special panel chaired by the BBC's Roger Harrabin: Living and working green: what behavioural changes are required to bring about a net-zero world? (see below for more details).
We have missed so many moments to make change. But all we can do is act now. What are you waiting for?
Find out how we can help you create market-leading sustainable places using One Planet Living.

Where you'll find us at Futurebuild
5 March (10:45 - 12:00), Arena (main conference area)Sue is speaking about changing personal and professional behaviour on a panel chaired by BBC's Roger Harrabin: Living and working green: what behavioural changes are required to bring about a net-zero world?

3 March 2020 (16:00 - 17:15), Critical Infrastructure Theatre
Emily Auckland, Network Director of UKSSD, which Bioregional hosts, is chairing the keynote session: The UN Sustainable Development Goals must also be UK Goals - do you know how to apply them to your work?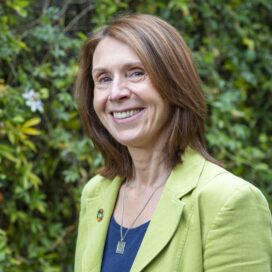 Get in touch
Contact us to find out how we can help you create market-leading sustainable places
Sue Riddlestone OBE
Chief Executive and Co-Founder of Bioregional
Fill in the form to send your enquiry direct to Sue