Impact Review 2021/22
It was a landmark year for the climate. Let's not allow our 'last best chance' to slip away
If you have any questions, please do get in touch
Chief Executive's foreword:
2021 was always set to be a landmark year for the climate crisis. With COP26 delayed until November 2021 by the pandemic and another vital year passing by, the 'last best chance' to avert the worst of climate breakdown became ever more urgent.
We made great efforts to amplify our practical and entrepreneurial approach and inspiring case studies of our work with partners which show "it can be done". In the run-up to COP26, more than two million TV viewers learnt about our vision for sustainable living, and the solutions to achieve it, when we featured in the ITV documentary 'Joanna Lumley and the Human Swan', along with a Channel 4 news piece on the efficiency gap of new-build homes. And we reached over 40,000 people as part of the COP26 #BuildBetterNow Virtual Pavilion, as well as engaging widely with businesses, policymakers, and delegates in Glasgow.
Looking ahead, Bioregional's central mission – to create homes and communities that enable truly sustainable living, within a net-zero, circular economy that respects the limits of our planet's resources – has never been more urgent. The increasingly stark warnings from the IPCC over the last year have made for difficult but vital reading. But as the IPCC makes clear, we know that there is still time – just – to rapidly cut our carbon emissions and secure a liveable future on planet Earth.
But only if we act now.
And from our fantastic work with partners, clients, and funders, we know that the solutions exist.
The coming year will again be a significant milestone in our mission to create a sustainable future for our planet. This summer, Bioregional has moved its London HQ from BedZED, the multi-award-winning exemplar of sustainable development that we helped to develop 20 years ago and where our London offices have been based ever since. BedZED continues to be important to us and we will still be running our popular guided tours.
Our move to central London is the right thing for us as we embark on the next stage of our growth, seizing the opportunity ahead of us to forge new relationships and increase our impact at Sustainable Ventures, a shared ecosystem for sustainability and climate tech start-ups.
In the coming year, we look forward to working with the many people and organisations who share our commitment to that better, sustainable world we all want to see.
Sue Riddlestone OBE,
Chief Executive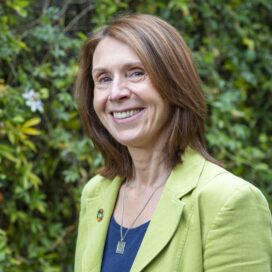 Get in touch
Sue Riddlestone OBE
Chief Executive and Co-Founder of Bioregional
Fill in the form to send your enquiry direct to Sue