The built environment companies engaging with the SDGs
In the run up to Futurebuild 2019, we've been sharing stories from built environment companies using the SDGs. Sue Riddlestone, our CEO, shares her favourites, and reflects on why the sector plays such a pivotal role in sustainable change
If you have any questions, please do get in touch
"Don't wreck my future", said the placard of one of the young climate strike protesters I met last month. Who could fail to be moved by the pleas of these young people who trust us to make the right decisions for their future?
As those who build tomorrow's world, we know our sector has an integral role to play in making positive change – from cutting carbon to solving social issues. And the Sustainable Development Goals provide a way to tackle these concerns together.

After lobbying for the SDGs prior to 2015, we are now focused on making sure they are implemented. This includes including using them to make sure that plans for our new One Planet Community in Chobham are absolutely water-tight.

While the global transformation we need isn't happening fast enough, collecting these SDGs stories shows me that the will, the expertise, and the camaraderie is already there. We just need to put it into practice.
Join those who have already risen to the challenge of building a better world and make younger generations, and ourselves, proud.
Meet the built environment companies already using the SDGs
Amie Shuttleworth, Head of Sustainability, Cundall
"It's important for built environment companies to address the SDGs because it's very much about what the whole world is trying to pull towards. That's why we used the SDGs when we did our materiality review with Bioregional, to come up with a new strategy – we wanted to see what was most appropriate for us as a business to contribute to. It's our duty as a purpose-driven business to be able to contribute where we can." Read Amie's full Q&A.
Nitesh Magdani, Group Director Sustainability, Royal BAM Group
"There's no single metric that companies use to assess progress against all sustainability things - environmental, economic, social. A lot of the focus that we see in the construction industry is around the environmental aspects like climate change, not so much on economic or social issues. The SDGs give us that point of reference for global issues that all companies need to deal with. They highlight certain agendas that may not be construction specific, but everyone needs to get onto them." Read Nitesh's full Q&A.
Joe Jack Williams, Researcher at Feilden Clegg Bradley Studios
"Using the SDGs provides us with the framework to capture the impact of the good work we do, for example combatting climate change through low energy buildings. More importantly it keeps the broader sustainability criteria in focus; from gender equality and open education, to marine protection and food security. By just raising awareness of these issues to those we work with, we are all in a better place to tackle them."
Rebecca Richardson, Sustainability Advisor, ilke Homes
"Through aligning with all 17 of the UN's SDGs, ilke Homes is able to deliver better homes in a better way, create better communities, and establish a better business. The consumer market is increasingly transitioning to one which values morality, responsibility, and sustainability. By using the SDGs we gain competitive advantage within this new and up-coming conscious consumer market."
Davide Stronati, Global Sustainability Leader, Mott MacDonald
"I like to see the SDGs as 'megatrends' – a fancy buzzword in the business community. Megatrends are major shifts that reshape society. The SDGs represent 17 megatrends that are societal needs, and I want to believe that the main aim of business is to address societal needs. You'd surprised by how many businesses are addressing their purpose – asking why they exist instead of just maximising profits." Read Davide's full Q&A.
Martin Pike, Chairman, Greencore Construction
"Our aim is simple, to build homes that are modern, comfortable and healthy. What's more we target high thermal performance and a near zero carbon footprint through the use of natural materials. But we have to be commercial if we want to have a real impact, and that means delivering all of this at a good price and growing our business.
To achieve this, we have to make choices between the ideal and the practical, and the SDGs help us to set priorities. We aim to do the best we can at a price that our customers are happy to pay. The team at Greencore is inspired by our vision and the SDGs are a powerful tool in motivating the team to deliver the best results."
Join those who have already risen to the challenge of building a better world and make younger generations, and ourselves, proud.
We will be at Futurebuild for the next three days sharing our expertise on the SDGs and our own sustainability framework One Planet Living. These complement one another well, and can help you deliver better places to live, work and do business. Join one of our sessions and find out more!
Build a better future: the built environment and the Sustainable Development Goals
Built environment companies are struggling to get to grips with the Sustainable Development Goals. So we've created an easy-to-digest guide with practical advice on how to get started. Let's build a better future together
Download PDF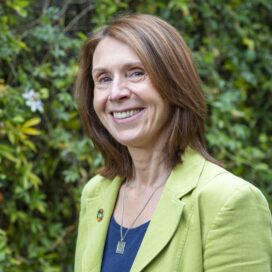 Get in touch
Contact us to find out more about how we can help you use the SDGs
Sue Riddlestone OBE
Chief Executive and Co-Founder of Bioregional
Fill in the form to send your enquiry direct to Sue